As a busy professional, you don't want to worry about technology. We frequently hear from executives that "I don't understand technology ". We are here to take care of the technology for you, and explain IT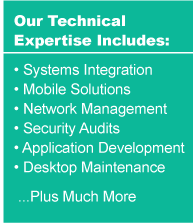 terms in jargon-free business-focused language. We offer worry-free solutions that help you focus on your business instead of technology.
Unlike most technology firms, we look at how to help you accomplish your business needs using technology as a tool rather than an end in itself. We offer a wide array of affordable enterprise-level solutions for the small and medium business that support your business strategies.
We offer business solutions, not just technology solutions
To see how we can help you with your marketing efforts, improve your operational efficiency, and assist you to maximize your time on the road, check out our solutions here.
Industry-specific solutions
We stay abreast of the latest technology for your industry to help you stay competitive and follow legislative developments to ensure your compliance with the latest rulings. To see examples of our industry-specific offerings, click here.


To arrange for an initial consultation, please contact us today.